Aloeric LGC Governor Welcome Letter
Aloeric Primary School is part of Pickwick Academy Trust and for a while local governance was overseen by the Trust Board. For more information about the Trust please visit: www.pickwickacademytrust.co.uk – you will find the Trust's Auditor report here too.
In February 2020 we launched a new Local Governance Committee (LGC) and appointed a new Chair and Vice-Chair. We have some vacancies on our LGC – if you would like to become a Governor and support the work we are doing at the school, please give us a ring or drop us an email to discuss this further. clerk@aloeric.wilts.sch.uk
There is a legal requirement for schools to record any potential conflicts of interest between Governors/Trustees and the impartial execution of their roles. To see the Trust record please visit www.pickwickacademytrust.co.uk/governance. See the table below for our governors
Our Governors are committed to improvement and make significant personal contributions to the school in terms of time and effort.Their role is to hold senior leaders to account for the performance of the school, and to provide support and guidance.Our LGC is held to account by Pickwick Academy Trust's Board of Trustees and Members.
Our Governors:
Paul Timperley- Chair
Tim Waldron - Vice Chair
Marie Gondlach- Parent Governor
Kelly Cover- Teacher Governor
Rebecca Clifton- Head of School
Rosalyn Cooper- Deputy Head of School Associate Governor
Sarah Andrews Clerk to Governors
For more information about Pickwick Academy Trust and to find out how to make contact please visit: www.pickwickacademytrust.co.uk/. You will find the Trust's Auditor report here too.
To view Pickwick Academy Trust's Trustee information and declaration of interests please visit: www.pickwickacademytrust.co.uk/governance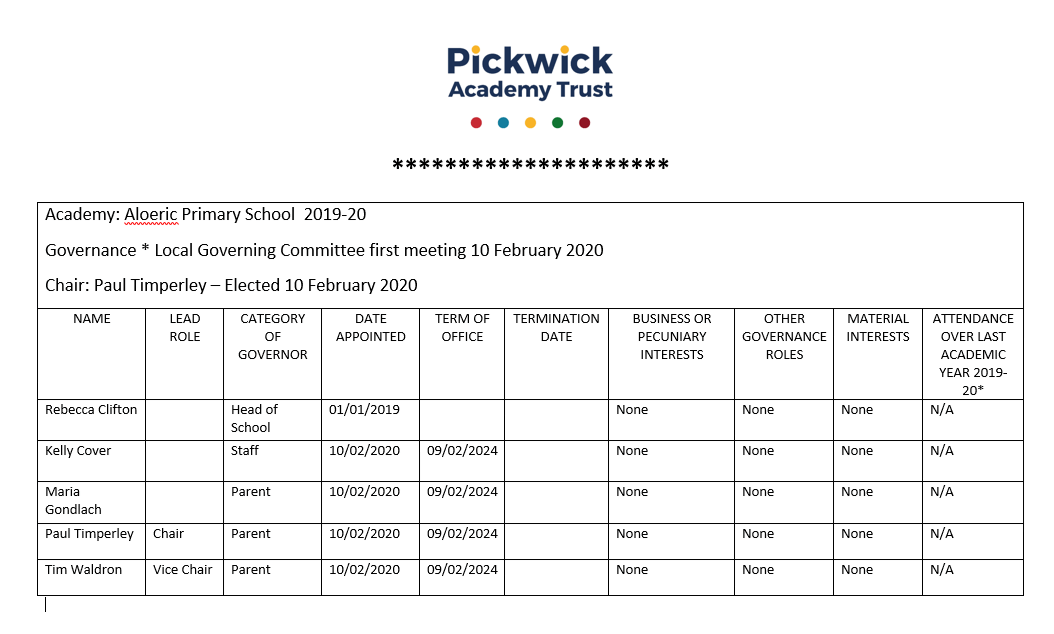 Our Governors
Paul Timperley BEng(Hons) CEng MIET AMIMechE - Chair
I have over 20 years experience as a Professional Engineer, covering areas in Air Traffic Management, Military Regulation, Audit and Inspection and Systems Engineering. I am the Chair of Aloeric Local Governors Committee, Aloeric Health and Safety Governor, a Systems Engineering Consultant and Director. I am a proactive, inclusive, and supportive leader; with a track record of change management and successful delivery across technology areas. I have led multi-disciplinary teams across a portfolio of mechanical/ electrical/ software/ hardware intensive technical projects and programmes in safety critical and unionised environments. I am focused on ensuring robust processes, principles and oversight; enabling efficient, effective and communicative management; inspiring confidence and engagement in all areas. Confidence in the team, staff, parents and pupils is aimed at driving improved outcomes and aspirations.
Tim Waldron -Parent Governor
I have worked in state education for 10 years and prior to this was a learning support assistant in pupil referral units in and around Leeds. My current role is Head of Ethics and Philosophy along with leading the curriculum for persona development (PSHCE) for all pupils at Royal Wootton Bassett Academy. I have an ongoing interest in Rights and Values based education, and has implemented Rights programmes in 2 secondary schools in Wiltshire. I am also an avid hockey fan and plays regularly for Corsham Hockey Club. Most importantly for me is my role as a Dad and I really enjoy seeing the progress that my daughter is making at Aloeric school.
Marie Gondlach- Parent Governor
I have 3 children attending Aloeric and I believe that every child has the right to an excellent education in a vibrant school where all pupils have the opportunity to achieve their potential.
As a governor, I am delighted to be involved in the journey that will see our school go from strength to strength. I wish to help the school with its continued improvement to provide the best inclusive and engaging education setting for all children at school, and to develop links to the local community and businesses.
I am passionate about helping young people achieve their potential through education and ensuring youngsters have the best opportunities to succeed whilst growing into responsible and caring individuals. I am really looking forward to working with the children, staff and families within the school community.
Kelly Cover-Staff Governor
I started work at Aloeric Primary School in September 2019 as a class teacher and I am passionate about providing our children with the best possible education so that each individual reaches their true potential. I have worked in the Early Years Sector for 20 years and am excited about my role as Staff Governor as I feel it will provide me with further opportunity to work alongside staff, families and our community to ensure our pupils receive an enriching and inspiring curriculum.