Reception/FS2
Bumblebee Class Teacher: Mrs Cover
Ladybirds Class Teachers: Mrs Edwards and Mrs Cooper
School closure information and links
We know that this is a very strange time for everyone. We want everyone to keep safe and healthy - that is our number one priority. We want to share ideas for you to try at home, but we don't want anyone to feel pressured to recreate school either. The FS2 teachers will email you regularly, and post challenges and video messages on Tapestry. Please keep in touch with us - we'd love to hear from you at least once each week (this doesn't have to be 'academic' evidence on Tapestry, it might be an email to say hello, or some photos of some crafts you've made or a game you've played).
Home learning- During school closure please see below for home learning links
Summer holidays ideas:
Previous challenges:
FS2 Easter holidays challenges
Why do we celebrate Easter powerpoint
FS2 phonics challenge pictures 11.5.20
FS2 extra writing challenge 11.5.20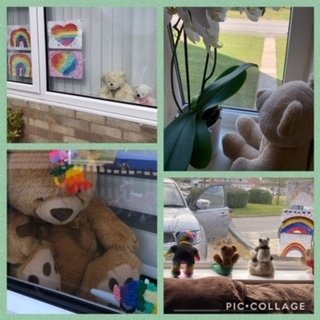 Some online resources for you to try:
Purple Mash - https://www.purplemash.com/login/
Classroom Secrets - https://classroomsecrets.co.uk/ - You can create a FREE trial account until April to support learning at home, there are also home learning packs for each year group that can be downloaded directly from the website.
Twinkl - https://www.twinkl.co.uk/offer You can create a FREE account to have access to printable resources to use with your child. Use the code: UKTWINKLHELPS to access these.
Topmarks - https://www.topmarks.co.uk/
ICT Games - https://www.ictgames.com/
Phonics Play – https://www.phonicsplay.co.uk/
Phonics Bloom – https://www.phonicsbloom.com/
TTS - https://www.tts-group.co.uk/home+learning+activities.html Downloadable activity books to use at home (although please be aware that the documents are very large)
Oxford Owl - https://www.oxfordowl.co.uk/for-home/
The School Run – https://www.theschoolrun.com/ Free worksheets for parents to download at home
Teacher's Pet - https://tpet.co.uk/downloads/key-stage-one-ks1-home-learning-resource-pack-1/
Welcome to Reception
Reception, or FS2, is the first year that children attend at Aloeric. We have a staggered start over the first few weeks, to support children's transition. The children learn through play, which doesn't mean we just leave the children to play; it is carefully planned and structured, and also supported by adults. The children learn an enormous amount without even knowing it!
We teach phonics, literacy and maths every day, share lots of stories and develop our learning skills through independent tasks as well as working with the adults. We sing, make, dance, explore musical instruments, explore the world and enjoy our learning. We have a session in the computing suite every week, and our own Foundation Stage Assemblies. Our weekly welly walks are just one part of our outside learning, as we are also learning in our outside classroom every day. These learning sessions are an important part of our 'Understanding the World' curriculum, but we might also be going on a bear hunt or making natural art.
We are also learning to become members of our new school community. We learn to form new friendships, be more independent, follow structures and routines and let our big personalities shine!
We learn through enquiry, or asking and answering big questions. The teachers plan these based on children's interests, so we can't share the planning for the whole year yet
Term 1: Settling in
What happened to the leaves?
Term 2: What lives in the woods?
What do you celebrate?
Term 3: Where is the ice?
What else do people celebrate?
Term 4: What lives in a castle?
Term 5: What makes a good pet?
We work closely with families; running curriculum workshops, stay and make sessions and inviting grown ups on trips and for special events like our Nativity, we share assessment information on Tapestry and we love finding out what the children are learning at home. Please read our newsletters to find out what we are learning each term.